Registration is now open for new members. To apply for a place please fill out our registration form here.
Monday Musical Theatre
6.15-7.45pm (during term time)
Yr 7 - Yr 11
Do you love to sing? Join us on an incredible journey through some of the most well known and loved musicals! Develop your singing and dancing skills and round off the team performing an edited version of a classic musical - previous projects include We Will Rock You, Elf The Musical, Dear Even Hansen and the productions of Andrew Lloyd Webber and Stephen Schwartz.
£10.50 per session - paid termly (sibling discount available)
What parents say..."Their performance was amazing - I was completely blown away! My daughter was so excited afterwards she couldn't sleep!"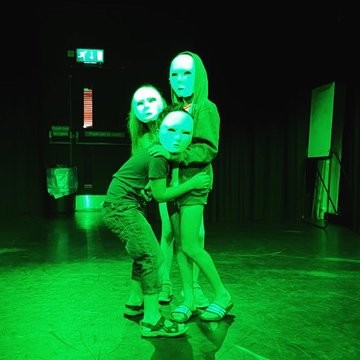 Wednesday Young Theatre
5.00-7.00pm
Open to 11-14 year olds (Secondary School Years 7-9)
Join a company of likeminded people and create a show over the course of a year to be showcased in our professional theatre.
£150 per term
What parents say...
"The show was brilliantly written to meet the needs of the performers and to suit their acting style. It taught them so many valuable theatrical skills: learning lines, remembering cues, working as part of a team and working under pressure. I particularly enjoyed the professional approach towards...lighting changes, music cues, costumes and set. Our son has got so much from this project... It is an experience they will never forget!"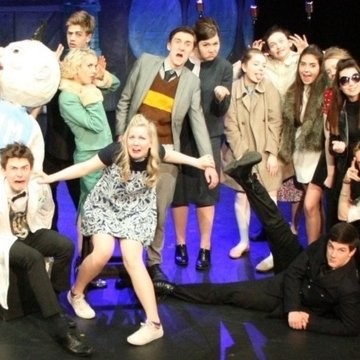 Monday & Wednesday
Redbridge Youth Theatre Workshop (RYTW)
7.30-9.30pm on both days (during term time)
A twice weekly theatre company for those aged 14-21 years (Year 10+)
RYTW is a great place for young people to explore and create theatre and learn new skills. Previous years have seen RYTW chosen out of 500 Youth Theatre companies across the country to perform as the closing act of the 'Connections' festival on the Olivier Stage at the National Theatre. There is no audition process but during a series of sessions the directors are looking for:
- a willingness to work diligently in sessions and rehearsals and an impressive record of attendance
- a preparedness to work with others and cooperate as part of a team
£150 per term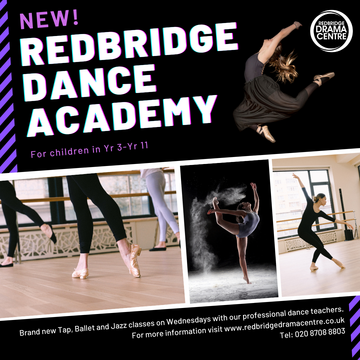 Wednesday Redbridge Dance Academy
New class!
Ballet/Tap/Jazz
Yr 7 - Yr 11
5.15pm - 6.15pm Ballet (£7.50 per session charged termly)
6.15pm - 7pm Tap (£6.50 per session charged termly)
7pm - 7.45pm Jazz (£6.50 per session charged termly)
Book all all 3 classes £20 (charged termly)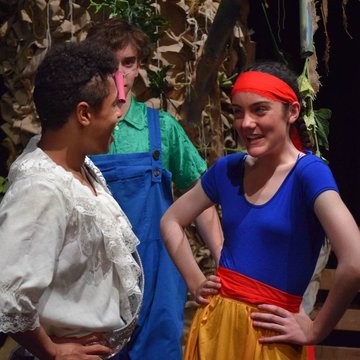 Saturday RDC Performing Arts School
2.30-5.30pm (during term time)
Yr 3 - Yr 11
An all-round experience for those keen to develop their dance, drama and singing skills. The afternoon sessions are split between each one of those areas and are energetic and exciting ways to explore the performing arts.
What parents say...
"I just wanted to say a HUGE thank you to absolutely everyone involved in the show. My child had an absolutely fantastic time, he loved every minute. I honestly can't thank you enough for making it such a fantastic experience."
£22.50 per session - paid termly (sibling discount available)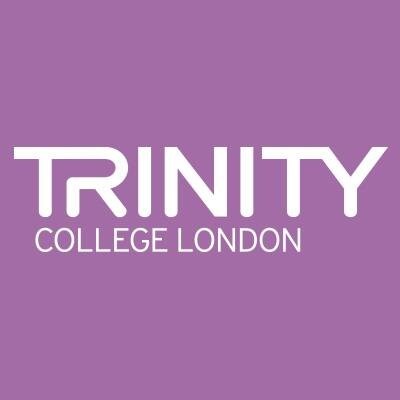 Sunday Trinity Musical Theatre
Year 7 - Yr 11 11.30am- 1pm
Official Musical Theatre qualifications are available alongside this course, provided by Trinity College London. You can opt in to work on Grades 1-8 in Musical Theatre alongside this class. We have a 100% pass rate with over 60% of candidates gaining a distinction in their grade.
Explore the world of musical theatre and expand your acting, singing and dancing skills. With a combination of working together as cast members and enhancing individual repertoires, this course is a fun-filled way to learning how to be a "triple threat" performer.
Students will spend the Spring and Summer Term working towards their chosen Musical Theatre Qualification with the final exam taking place in the Summer Term.
£10.50 per session - paid termly (sibling discount available)